A lot of conversations about how to scale a coaching business focus on building systems and growing your team, but what's missing is the foundation and the transition.
How do you actually go from running a 1-on-1 coaching practice to creating a scalable business?
If you're looking for ways to scale as a coach, you're in the right place. In this article, I'll share with you how you can transform your coaching business so you can serve more clients in less time.
You will learn:
What a scalable coaching business looks like
3 simple keys to taking the leap into a scalable coaching business
The foundation you need to serve more clients
The benefits of having a high-leverage program
Types of offers you can create to transform your practice
What is a "Scalable Coaching Business"?
I have asked several coaches what a scalable coaching business looks like to them, and here's what they have told me:
Coaching more than one client at a time
More revenue without more time commitment
Moving from 1-to-1 to 1-to-many
Working less and making more
Creating more personal freedom while still serving others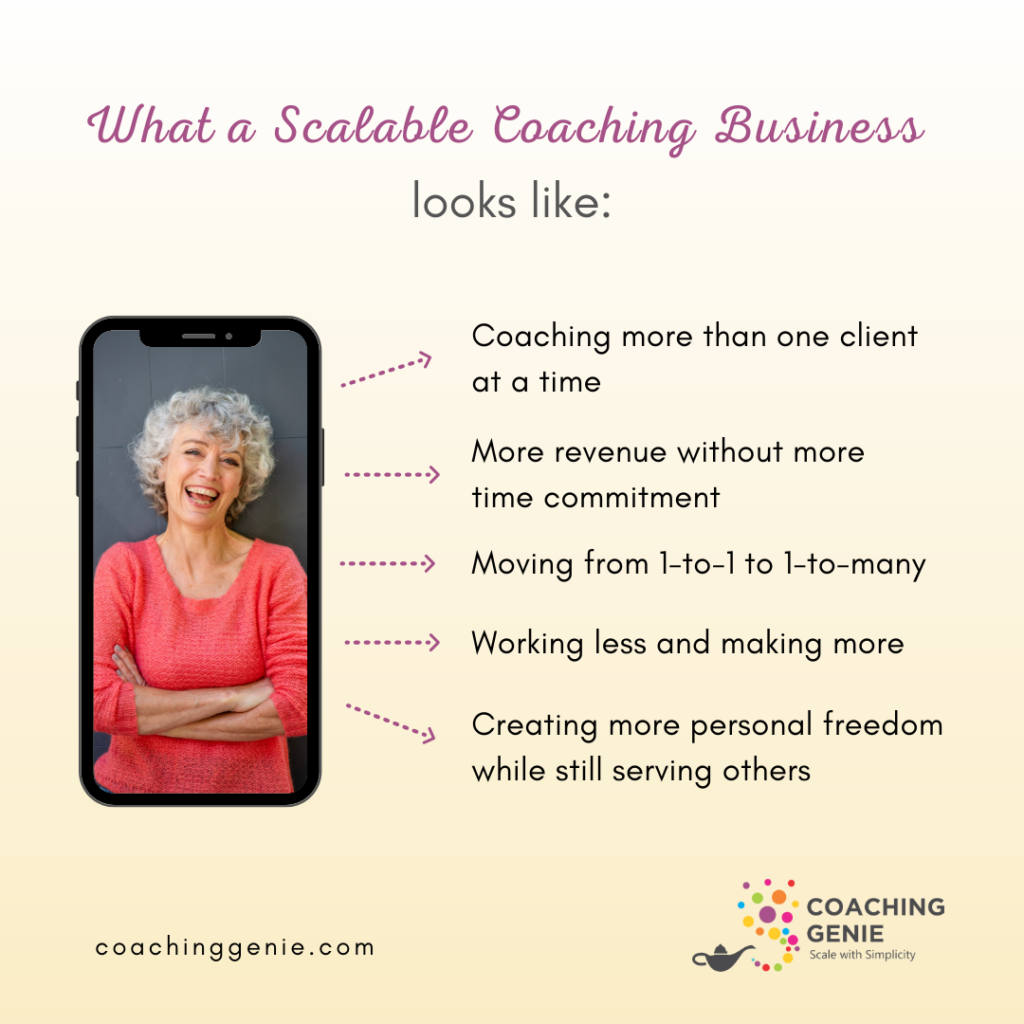 How to Scale a Coaching Business: 3 Simple Keys
So how do you scale your coaching business like that?
I want to share with you the 3 simple keys to taking the leap into a scalable coaching business, where you can serve more clients in less time, while still delivering great results.
Key #1: Capture
Start capturing your knowledge in a format that can be delivered over and over again without you having to personally deliver it.
One of the most important steps and mindsets on how to scale a coaching business is truly appreciating, gathering, organizing, and leveraging your knowledge base.
All your live talks, interviews, workshops, videos, and presentations – all of your ideas and intellectual property should be captured so you can share and monetize them any time.
Each nugget of your expertise is a potential coaching product or tool, but only when it's captured.
And chances are, you probably already have enough material to start building your knowledge base or own coaching library.
After working with clients for a couple of years, I realized that I'd been saying the same things over and over again.
So I started recording short training videos and putting together worksheets, and sending them to clients before our coaching sessions so they would be better prepared and I could focus on coaching instead of teaching.
I also started collecting any other content I had been creating as I coached clients and marketed my business, such as:
Worksheets and workbooks
Video and audio trainings
Past programs and courses
Coaching exercises and journal prompts
Assessments and self-assessments
Recordings from online challenges and webinars
Forms, checklists, and templates
Guided meditations
Video tutorials and presentations
Workshop recordings
Recordings of speaking at events
Interview recordings
Building your own "coaching library" is the foundation for being able to serve more clients in less time.
So start capturing your expertise into sharable resources, tools, and training and start building your own coaching library.
Key #2: Package
Package your tools, resources, and content into scalable coaching programs.
As your business grows and you get more clients, you start facing some growing pains…
Each client is different and comes with their unique challenges and needs, so having the same "blueprint" for all clients may not work.
Some clients want a more individualized approach and more of your personal attention.
Sending any relevant documents, materials, and tools can get time- consuming and chaotic as you get more clients, especially if they are all at different stages of their journey.
Keeping track of all your clients' goals, progress, and homework assignments can feel chaotic and overwhelming, especially in group programs!
When you design your coaching programs in a scalable way, most of these challenges go away.
What is a Scalable Coaching Program?
A scalable coaching program is a high-leverage program.
It allows you to leverage your time and expertise so you can serve more clients in less time, without sacrificing results.
Allows you to leverage your expertise. You don't have to create a new program for each client, and you can just repurpose your coaching tools and training in your library.
Doesn't increase your delivery time with each new client. It doesn't require too much 1-on-1 attention.
Delivers the same transformational coaching experience to multiple clients just as to 1-on-1 clients.
Value doesn't just come from you and your personal time investment. Your program delivers value whether you're there or not, so your business can grow and thrive without relying on your presence.
Ways to Scale Your Coaching Business
Here are some examples of offers you can create to take the leap into a scalable coaching business:
Group coaching program
Group + private (hybrid) program
Online + in-person (hybrid) program
Coaching club
Inner circle
Mastermind group
E-coaching program (no calls)
Membership-based program
Leveraged private coaching
YES you can serve more 1-on-1 clients in less time when you're efficient in how you deliver your coaching!
That's why a critical part of the process on how to scale your coaching business with these types of offers is the delivery – and that brings us to key #3.
Key #3: Deliver
Deliver transformational programs in a way that doesn't create added complexity for you.
Working with more clients, offering group programs, and building your coaching library can feel a little overwhelming.
That's why you need a system that can handle all your multiple clients and offers so you can easily deliver your programs, and manage all the moving pieces with simplicity.
Scale Your Business with Coaching Genie!
Coaching Genie is an online platform that allows you to organize, manage, and deliver your coaching programs to clients and groups.
Watch the FREE demo and discover how it can turn your expertise into your own online coaching portal and will make it easy for you to scale your business.
Milana is an entrepreneur, business strategist, and marketing mentor to coaches, authors, and speakers. She is the author of two books, "Coaching Millions" and "Simplicity Entrepreneurship", the creator of telesummit. She is also the creator of Coaching Genie, an online platform for designing and delivering coaching programs with ease. She came from Soviet Ukraine almost three decades ago as a classical musician with zero knowledge of the business world and has since built multiple six and seven-figure businesses. Today she's passionate about showing entrepreneurs how to use simplicity as a growth strategy. Goodbye complexity and overwhelm. Hello, simplicity, profits, and ease.